Reactions from Pristina and Belgrade after US sanctions on Veselinovic and Radojicic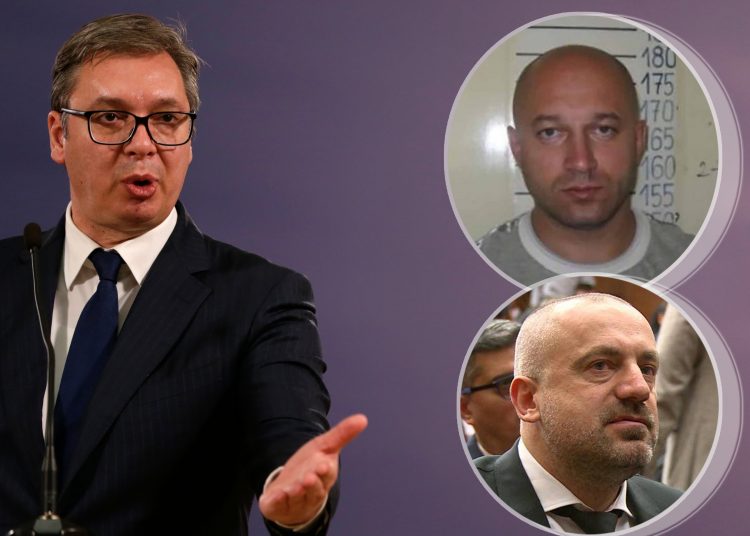 Infamous businessmen from northern Kosovo, Zvonko Veselinovic and Milan Radojicic, who have close ties to Serbia's top authorities and are involved in numerous scandals, have been sanctioned by the US Treasury for allegedly giving bribes to politicians to secure their illegal business: smuggling of goods, money, drugs and weapons between Kosovo and Serbia.
Just one day after US President Biden announced a new anti-corruption strategy, the first step was taken – the US Treasury sanctioned a group of Serb criminals from northern Kosovo, led by Zvonko Veselinovic, and a criminal group from El Salvador.
The explanation of the American Treasury states that Veselinovic is one of the most notorious corrupt figures in Kosovo.
Kosovo President Vjosa Osmani and Prime Minister Albin Kurti welcomed the United States' decision to impose sanctions on organized crime groups from several European countries, including Zvonko Veselinovic's group in northern Kosovo.
Osmani said in a Twitter post that "Kosovo institutions are fully committed to rule of law and will cooperate with the United States to ensure that our region doesn't become a safe heaven for such crime groups."
Prime Minister Kurti also welcomed the decision of the United States to impose sanctions on Zvonko Veselinovic and an organized crime group operating in northern Kosovo.
"Responsible for the trade of goods, money, narcotics and weapons between Kosovo and Serbia, this group is the best evidence that crime in northern Kosovo is a daily reality that violates the rule of law and the rights, freedoms and well-being of citizens." , wrote Kurti on Facebook.
He assessed that the decision of the United States of America confirms the legitimacy of the actions of the Kosovo Police a few weeks ago in the municipality of North Mitrovica against smugglers of illegal goods.
The US decision was welcomed by the former Prime Minister of Kosovo, and the leader of the Alliance for the Future of Kosovo, Ramush Haradinaj.
EU High Representative for Foreign Affairs and Security Policy Josep Borrell also reacted to US sanctions against corruption and organized crime networks in the Western Balkans, including a criminal group operating in northern Kosovo led by Zvonko Veselinovic.
Borrell wrote that the US decision on sanctions is an important step in the fight against organized crime in the Western Balkans.
" The designation by the U.S. is an important step in fighting organised crime in the Western Balkans Dismantling transnational criminal networks contributes to security, stability &improves rule of law in the entire region. The EU is fully engaged in pursuing this common objective.", Borell wrote.
On the other hand, "their defender", Serbian President Aleksandar Vucic, reacted to the decision of the US Treasury Department to impose sanctions on Zvonko Veselinovic, Milan Radojicic, the deputy head of the Serbian List and ten other people, such as expected. It is indisputable that Vucic himself supports criminal activities in northern Kosovo, but also Serbs there who are in Kosovo institutions.
For Vucic, the Serbian List is his hand and voice in Kosovo, so there is no doubt that Vucic himself has not benefited from his loyal Serbian List and its candidates, and also the rhetorical question arises whether Vucic and his people have participated in criminal offenses?
Defending his honor and reputation, Vucic, commenting on the US decision, denied that the Serbian Progressive Party (SNS), led by him, had taken money from Zvonko Veselinovic.
"They did not give us any dinars, I do not know about the others. The party I lead has enough money thanks to state funds and membership fees. These are our basic resources. We do not need any additions," Vucic said.
He told a news conference on December 8 that he had received an informal report from the US Embassy on the decision.
"They accused them in the first place of illegal trade. In the end they will accuse them of not respecting the border between Kosovo and Serbia, but that is their job. If there are any serious accusations, our state authorities will investigate.", Vucic said.
Although the president of Serbia has been in contact with Kosovar businessmen Zvonko Veselinovic and Milan Radojicic for years, Aleksandar Vucic's statements on the subject are very contradictory. From "I have never spoke to them", to "I have pictures with Veselinovic".
In the explanation of the US sanctions, these "friends" of the ruling party are linked to the smuggling of weapons and narcotics, but also to an organized criminal group which is accused of alleged involvement in the murder of Oliver Ivanovic.
The mentioned businessmen have been affiliated with the ruling party in Serbia for years, and Radoicic himself is a high representative of the Serbian List.
"To be honest, I think I have seen Zvonko Veselinovic twice and I have always spoken publicly about it, I do not believe we have ever spoken in our lives. I do not even have his number registered on the phone. Maybe he had some friends in Kosovo, so I talked to someone while he was present, but I do not believe that either. I think I have not talked to Milan in my life, I have talked and he could have been present at the meetings when I conveyed messages to people from Kosovo and where the representatives of the Serbian List are sitting, so everyone addresses to me. In no other way.
BIRN and KRIK investigative journalists have written several times about the closeness of Zvonko Veselinovic and Andrej Vucic, the president's brother. At the time, Andrej Vucic's photos were published in the company of people who are now on the US sanctions list.
The public heard about Milan Radoicic from Vucic, who described him as "a man who protects the Serb people and the hearths in northern Kosovo". Later, when his name was mentioned in connection with Ivanovic's murder, he defended him with the words: Radoiçiq is not a saint, but I have evidence that he was not involved in the murder of Oliver Ivanovic.
Now this "saint" is on the list of American sanctions.