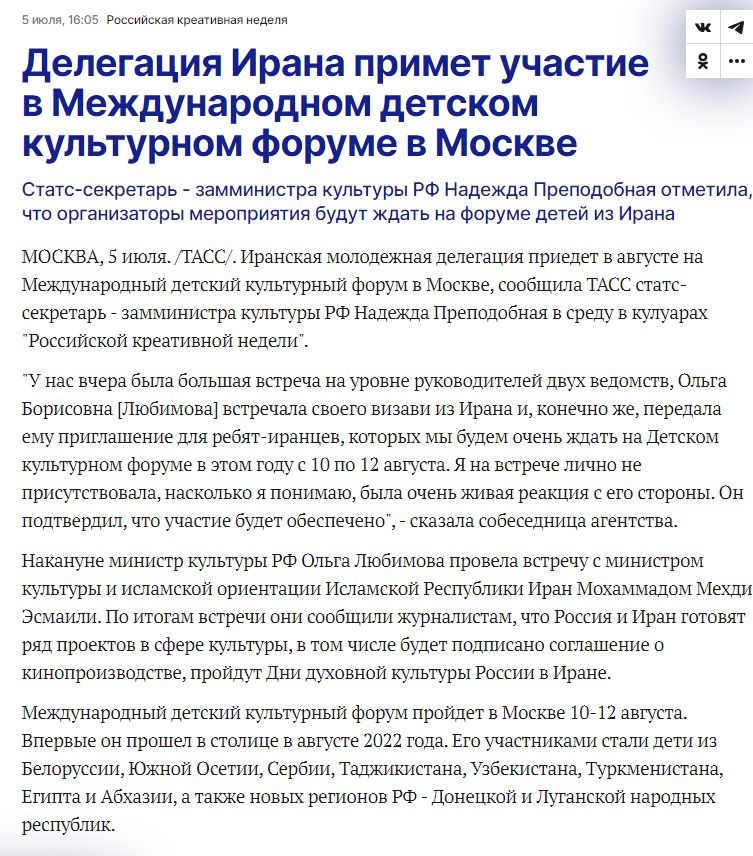 An Iranian youth delegation will arrive in Moscow in August for the International Children's Cultural Forum, State Secretary – Deputy Minister of Culture of the Russian Federation Nadezhda Prerevyatnaya told TASS on the sidelines of the Russian Creativity Week.
TASS recalls that last year's participants, who are expected again this year, were children from Belarus, South Ossetia, Serbia, Tajikistan, Uzbekistan, Turkmenistan, Egypt and Abkhazia, as well as the new regions of the Russian Federation – Donetsk and Lugansk.
"We had a big meeting at the level of the heads of both departments. Olga Borisovna (Lyubimova) met with her colleague from Iran and, of course, handed over to her the invitation for Iranian children to take part in the Children's Cultural Forum this year, and Prerevyatnaya told TASS that the Iranians had confirmed that their participation would be guaranteed.
A day earlier, Russian Culture Minister Olga Lyubimova met with Iran's Culture Minister Mohammad Mehdi Esmailli. After the meeting, they told journalists that Russia and Iran are working on a number of cultural projects, including a film production agreement, and that Iran will host the Days of Spiritual Culture of Russia.
The International Children's Cultural Forum will be held in Moscow from 10 to 12 August./The Geopost/